Cats vs. Robots #2: Now with Fleas!

- Margaret Stohl, Lewis Peterson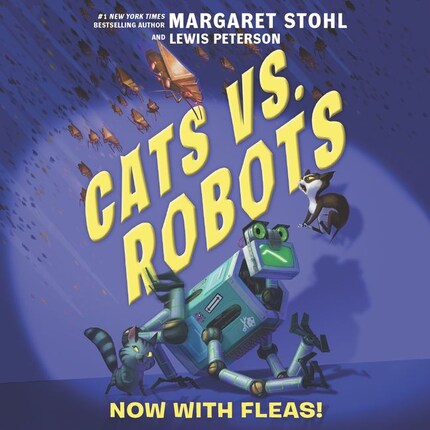 Zusammenfassung
#1 New York Times bestselling author Margaret Stohl and Lewis Peterson are back for book two in the hilarious middle grade series!

Book one of the Cats vs. Robots series was praised for its "mix of tech and kitties, STEM and heart" by the Bulletin of the Center for Children's Books.

In book two, the intergalactic war between the Feline Empire and Robot Federation has escalated to the brink of war. Cats and robots are preparing to converge on Earth and battle it out for the Infinity Engine. And the inventors and safekeepers of that powerful weapon? The Wengrod family.

Max, Min, their parents, and cousin Javi, all know the stakes are higher than ever as the fate of their planet rests on their shoulders.

The family creates an elite swarm of robotic fleas to attempt infiltrating both sides and halt attacks, but will peaceful persistence be enough? Will they ever rescue their friend Obi? Will Huggs and his sidekick, Vice President Parker P. Pants (VP P.P. Pants), with all their power and influence, prevail in the end?

Margaret Stohl and Lewis Peterson bring hilarity, heart, and the case for tolerance in the second book of the Cats vs. Robots series!